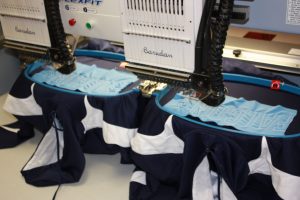 An embroidery laser can be attached to a singlehead machine, a two-head machine or a four-head machine. Each laser can be programmed to do a unique job. This is the ideal setup when doing personalization in small quantities. Photo courtesy of BITO, Copiague, NY
What are your options if you want more than a singlehead embroidery laser, but your budget and floor space can't accommodate a laser bridge over a six-head machine?
Within the singlehead laser category, there are two options. The all-in-one option marries a singlehead embroidery laser with a singlehead embroidery machine. You can still use this unit to do only embroidery, but you can't remove the laser and put it on another machine. Some manufacturers offer a two-head machine with a laser built into both heads.
In the all-in-one, the laser has to be installed at the factory, and you are limited to the brand of machine the laser supplier offers. You cannot choose an embroidery machine brand and get a laser installed.
The second option is a singlehead embroidery laser that is portable and can be attached to any make or brand of embroidery machine. This type of laser can be moved from machine to machine if needed. You also can purchase a two-laser unit that can be attached to two embroidery heads.
If you want to add lasers to a four-head machine, then you will need two two-laser units to do so. After the initial singlehead laser is installed, add-ons must be in increments of two.
The portable laser comes only in single and two-head configurations. So for a four-head embroidery machine, you would need two units.
A third option is a standalone galvanometric laser. The cost is a fraction of a laser bridge and more or less the same cost as purchasing two two-head embroidery lasers for a four-head embroidery machine.
A single galva laser can be stationed close to one or more embroidery machines, and the operator moves the hoop from the embroidery machine to the laser and back. It is more labor intensive than an integrated embroidery laser solution, but still much faster than any traditional methods of doing appliqué. A galva laser cuts at the same speed as a laser bridge, which is up to 10 times faster than conventional laser cutters.